---
---
This Item Has FREE SHIPPING!
Available on Backorder / Shipping Delayed
MPI is an authorized AMS Dealer! You can trust AMS to provide the highest quality parts for your high performance needs!
By changing to a blow-through style MAF we have eliminated the problems associated with running big power on a factory pull-through system.

Alpha R35 GT-R Induction Kit

Accurate Airflow Metering Provides Big Power And Perfect Driveability
By changing the MAF location and converting our setup to a speed density system we have eliminated the problems associated with running big power on traditional intake pipes. Smoother driveability and a higher peak HP threshold can be achieved while still using a 3u201d pipeu2026 we have proven well over 1800HP to date. This Speed Density conversion allows for much better measurement of the airflow that is actually entering the engine and allows you to run a BOV that will vent to atmosphere without the consequences of a standard MAF.
Maximum Airflow For Maximum Horsepower And Torque
By increasing the size of the upper intercooler pipe on the GT-R from 60mm to 76mm (3u2033) we allow for more airflow resulting in the greatest increase in HP and torque. Each pipe is powder coated in wrinkle black for good looks and durability.
Cooler Intake Charge Boosts Power And Response
Cooler air makes more power, there is nothing new about that. We designed our Alpha Intake Piping to pull the coolest air into your engine for the best power gains possible.
AMS Innovation Makes Changing Blow Off Valves Easy!
We took a new approach on accommodating different BOVu2019s making it easier than ever to swap them out. Instead of the traditional welding on of the appropriate flange we incorporated a threaded boss that you can screw on a flange for either a stock, HKS or TiAL valve. Now there is no need to cut off and weld on flanges!

Do it right the first time, order your Alpha GT-R Induction Kit today!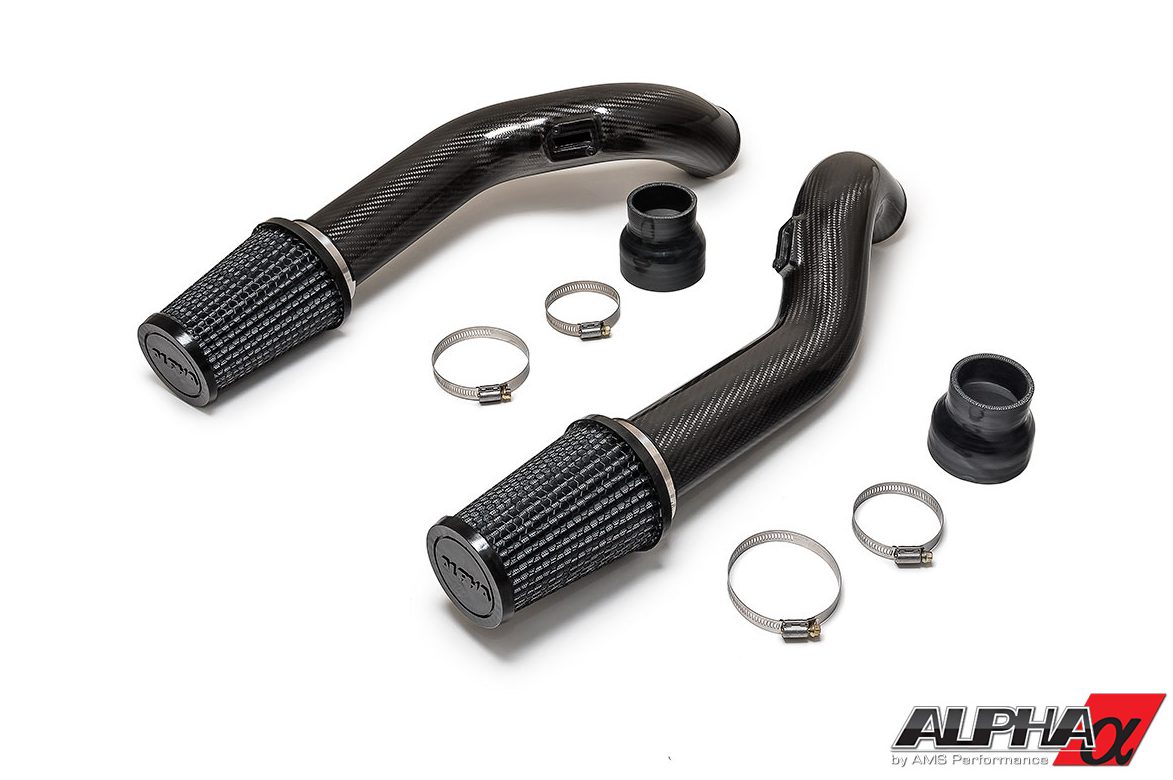 Exclusive Benefits
Speed Density conversion improves driveability

More accurate metering of air-flow for smoother part-throttle operation

Proven efficient to over 1400HP

76mm (3u2033) piping for increased power output

Cold air intake system for cooler air charge

Simple solution for changing BOVu2019s

Extensively tested and proven solution
Applications
Product Notes
Designed to fit with the stock, Alpha Performance FMIC, and Alpha Performance Race FMIC. Be sure to choose the correct option.

Installing this product on any other intercooler may require additional parts and custom fabrication.

Due to the new Mass Air Flow Sensor orientation this product requires an ECU re-tune to your vehicle following installation. Failure to do so can cause engine damage.

As these motorsports grade carbon fiber parts are hand laid, slight imperfections or weave pattern variances can be expected.
NOT LEGAL FOR USE ON POLLUTION CONTROLLED MOTOR VEHICLES. THIS PRODUCT IS FOR RACING COMPETITION ONLY AND IS NOT LEGAL FOR USE ON HIGHWAY OR STREET VEHICLES, OR OTHER NON-RACING COMPETITION OFF-ROAD VEHICLES.
OFF ROAD/RACE/COMPETITION USE ONLY!
Not CARB Legal! Not For Sale In the State of California.
Please read our Terms & Conditions before purchasing.
---