---
---
This Item Has FREE SHIPPING!
MPI is an authorized AMS Dealer! You can trust AMS to provide the highest quality parts for your high performance needs!
Alpha Performance R35 GTR Fuel Line Clamp System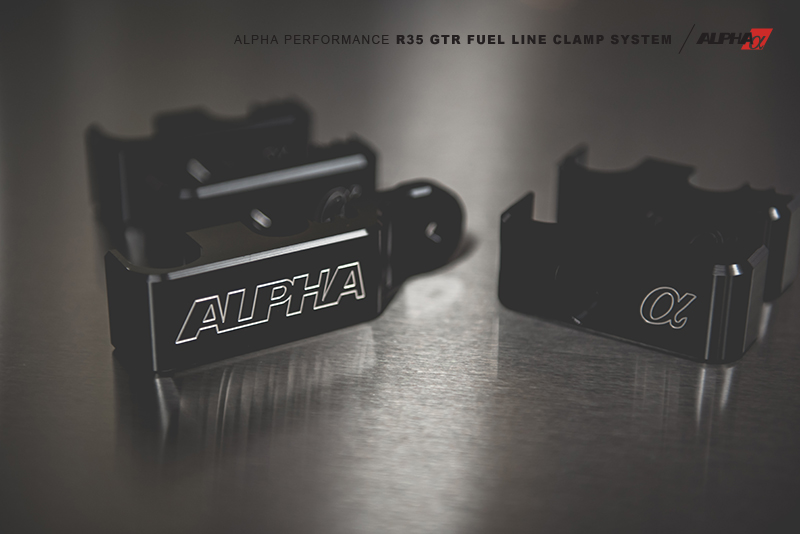 ---
Introducing the Alpha Performance R35 GTR Fuel Line Clamp System. Alphau2019s under-car fuel line clamp system was designed for use on any R35 GTR. If you have modified your GTR already, or plan to in the future, then you are going to need to run larger fuel lines to produce more power. These clamps are a small investment for the piece of mind that your fuel lines are securely fastened to the underside of your car protected from damaging road debris. The design of our fuel line clamp system is what sets it apart from the competition.
The Alpha Performance R35 GTR Fuel Line Clamp System is set up for -10 to -8 feed and -8 to -6 return lines. Our ultra wide clamp design (30mm) adds additional support and allows for the use of any lines currently on the market. The clamps feature large saddles which are ideal for a 21mm outside diameter feed line while the small saddles allows for any return line with a 17mm maximum outside diameter. The Alpha Performance Fuel Line Clamp System allows you to grow into your fuel needs without having to buy another kit.
In the kit you get four fuel line brackets, three mounting sleeves, and adhesive backed rubber stripping material supplied to adjust for variations in aftermarket fuel lines. The Alpha Performance R35 GTR Fuel Line Clamp System works with all of these types of linesu2026
Nylon braid standard AN hose
Stainless braid standard AN hose
Nylon coated stainless braid PTFE lined AN hose
Stainless braid PTFE lined AN hose
Nylon convoluted PFTE lined AN hose
Stainless convoluted PTFE lined AN hose
Benefits
---
Universal Fit for Any R35 GTR
Allows For Use of Larger Fuel Lines
Ultra Wide Design
Adds Additional Support for Fuel Lines
Allows User to Grow into Their Fueling Needs
Will Work With a Wide Range of Fuel Lines
Billet Construction
Anodized for Corrosion Resistance
Alpha Branding
Applications
---
2009-2011 (CBA) Nissan R35 GT-R
2012+ (DBA) Nissan R35 GT-R
Fits all USDM, JDM, Gulf, and European Models (LHD & RHD)
Click here to view the GTR Fuel Line Bracket Installation Instructions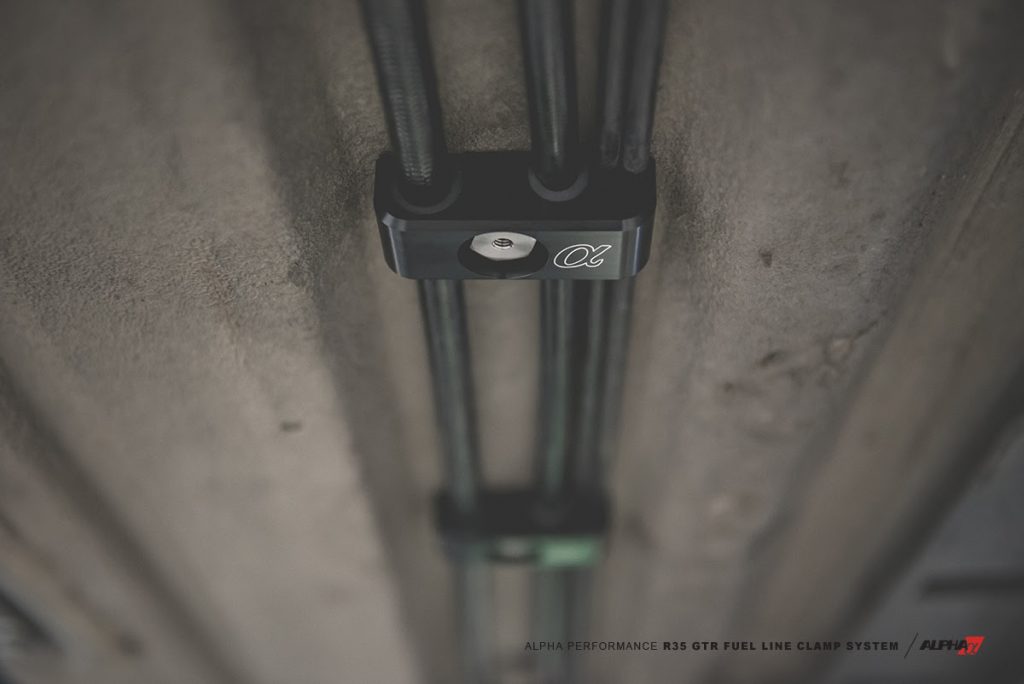 NOT LEGAL FOR USE ON POLLUTION CONTROLLED MOTOR VEHICLES. THIS PRODUCT IS FOR RACING COMPETITION ONLY AND IS NOT LEGAL FOR USE ON HIGHWAY OR STREET VEHICLES, OR OTHER NON-RACING COMPETITION OFF-ROAD VEHICLES.
OFF ROAD/RACE/COMPETITION USE ONLY!
Not CARB Legal! Not For Sale In the State of California.
Please read our Terms & Conditions before purchasing.
---